Quand :
1 novembre 2022 – 2 novembre 2022
Jour entier
2022-11-01T00:00:00+01:00
2022-11-03T00:00:00+01:00
Où :
RDM-Straat 1 NL-3089 JS Rotterdam The Netherlands
The first European Heat Exchanger World Conference & Expo premiers at RDM Rotterdam, 1 & 2 November 2022
Heat Exchanger World Conference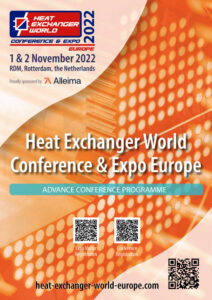 Advance Conference Programme available now!
This advance conference programme showcases some of the plans we have in store, from the conference rooms to the expo floor to the evening's social schedule.
Our technical conference is designed to facilitate knowledge-sharing and new opportunities among the heat transfer industry, showcasing some of the latest developments as well as providing interesting discussions on current challenges to the supply chain.
This event is the opportunity to ask experts questions and address issues that you face in your daily working life. Undoubtedly, they will be able to offer advice and in many cases solutions.
As well as gleaning knowledge from the sessions we hope that you will enjoy voicing your opinions in our discussions and take advantage of interactive workshops.
This is a vibrant community so this conference is intended to be of great value to you, whether this be in gaining a better understanding of technicalities or challenges within the supply chain, meeting new business prospects, or strengthening existing contacts and knowledge.
Be part of our community; make it your business opportunity of 2022 and exchange what matters!